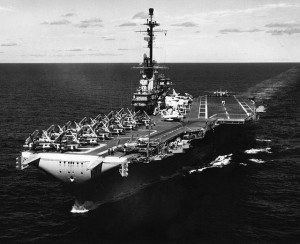 Rising like a mountain from the crystal blue waters of the Corpus Christi coast is a remarkable sight. It is the home of a 70 year old Lady Sailor, this lady is the "Blue Ghost" the U.S.S Lexington. She is a highly decorated veteran of several wars and is now the number One tourist attraction in Corpus Christi.
Laid down in 1941 she was originally to be named the Cabot. When her sister ship, the Lexington was destroyed at the battle of the Coral sea, the Cabot was renamed in honor of her sibling. This was when she first received her nickname "The Blue Ghost". The Japanese, having sunk the Lex, were stunned to see her return from the dead months later to wreak havoc upon them. She went on to serve with honor, receiving a number of medals, including the Presidential Unit Citation, equivalent to the Distinguished Service Medal. She's also a SEAL, having received the Special Operations Service Ribbon.
"Lady Lex" was decommissioned in 1991 after serving longer than any ship of her class. She is the oldest aircraft carrier in the world. But she still has her looks. She went on to a career as a movie star, appearing in films like "Midway" and ironically imitating a Japanese warship in 2001's "Pearl Harbor".
Recently she has done a turn as a TV star. She has been featured on a number of paranormal themed TV programs. Some say that the "Blue Ghost" is haunted. One of her first losses was Nile Kinnick the Heisman trophy winner of 1939. His plane was lost at sea, but some say he still walks the passageways.
Her latest career has been as an educator. In 1992 she was donated as a museum and was named a National Historic Landmark in 2003. She features 20 aircraft, a MEGAtheater(think IMAX), with guided and unguided tours. And if you dare, schedule an overnight stay with "The Blue Ghost" and her spectral crew.

She was a heroine, an actress and she loves to have fun !!! That's our spirit here at All My Sons. If you're moving to the Corpus Christi area let us here at All My Sons Moving & Storage take care of you the way Lady Lex cared for her loyal crew.

Images courtesy of Cliff and the USS Lexington Museum

This entry was posted in